To: Community Squad / Marketing-Vertical
From: Near Venezuela
Summary / Purpose
Let's expose NEAR technology and help to save the world in the process.
Let's go further, from Certified Climate Neutral to Positive, following the sustainable development goals of the new millennium.
The purpose is to show that NEAR is indeed green, helping the world and having exposure and public acceptance. This will create interest from the media, local news, and other associations that is finally translated into new members/users of this great community.
UNESCO - Interesting links

Palmeros de Chacao a Cultural Heritage of Humanity
Description
We will be saving the world by providing funds to the "Palmeros de Chacao" association. These lovely people are planting trees for us all. They do it every day just for love because nature, and tradition are sacred to them. They are also firefighters volunteers and teachers about the importance of protecting life, so they grow not only caring about the environment but taking action on it with positive results. In addition, these "Palmeritos" - palm trees caring kids - will be the next generation that will continue to keep alive a natural reserve and a centuries-old tradition.
These efforts will translate into positive marketing. We will be hitting the news and the hearts of a lot of people in the world and, of course, in Venezuela, where my team will take care of materializing this endeavor into new end-users of the NEAR wallet.
NFTs of the Sacred Palm Tree will be minted. This will be used as a hook, so people will be interested in opening a NEAR wallet.
Team
fritzwagner.ner
jloc.near
elcdrtco.near
yehosua.near
mineriavirtual.near
3por1000.near
From the Palmeros de Chacao we will be working closely with:
María Victoria Morantes: supervise and write articles for our information platform. She is currently a third-year medical student at the Central University of Venezuela; scholar of the ProExcellence program of the Venezuelan American Friendship Association (AVAA), and volunteer in health centers and aid to the environment.
Our mutyfaceted team is composed of a group of professionals who have proven to be excellent in their fields, im talking about marketing, translating, content creation, software development, legal departments .
We are also looking to complement our group with anyone who can help us achieve our goals and complete our projects.
We have managed to execute several projects in the cryptocurrency industry; we have worked as instructors and mentors to many persons teaching about blockchain and the evolution of cryptocurrency. We have been trading and working with several financial markets for over seven years and have managed many people's investments and funds.
Goals / Objectives
The goal is to be recognized as the Green Blockchain, and use this positive marketing to onboard so many people to decentralized finances - starting using NEAR wallet as a regular wallet for payments daily - that this amount of people will lead others so others will come because this will be the trend in crypto payments in Venezuela.
In the time-lapse of one year, we are hoping to achieve 100,000 new NEAR wallet daily users only from Caracas. We are confident we will achieve at least 500 new users from the Palmeros de Chacao neighborhood .
Trustfully and Transparent Organization
We will create a DAO - using ASTRO DAO - for the "Palmeros de Chacao". Therefore, they will be able to deposit every funding they receive and administer it clearly and smoothly , reporting on a forum of themselves. This will be trending on how to be transparent for any other organization. We will teach them how to use it, and they will embrace how the NEAR Foundation is financing the community projects using gov.near.org and the sputnik DAO.
Objectives for each month:
We will make a social media trend of the "Palmeros de Chacao" activities sponsored by NEAR Protocol. Reaching at least 1,000,000 views.
We will follow up the activities from the "Palmeros de Chacao" and we will be taking notes, writing content, recording videos and then editing and posting on social media.
We will attract at least 1,000 attendees to several events.
Organizing/Participating in activities that include square meetings, guided mountain tours accompanied by care and planting activities, talks about how to protect the environment in schools and universities. Everything with NEAR protocol as a sponsor with the QR code that links with the Telegram group of NEAR HISPANO.
We will manage the funds that will be mostly destined for tools that facilitate the work of the "Palmeros de Chacao" in a smart way that will multiply the effect of the donation from the marketing point of view.
In an oil country plagued by the need and lack of services that include gasoline shortages, We - NEAR Protocol with our member's hand - will build an electric car for the "palmeros de chacao" - they don't have a vehicle in their organization so the leader and the team go by foot to every meeting.
We will be helping new users to open their NEAR Wallet and guiding them on how to deposit funds.
There will be a promotion of a Palm NFT, all the people that will show interest in helping in any way - good people like to help with everything related to saving the world and planting trees - will be receiving an NFT on their NEAR Wallet, so they will be opening a new wallet in order to receive the NFT.
Note: Every broadcasted and in place activity will have the mention of thanks to NEAR protocol as a sponsor and will explain about NEAR protocol leaving contact and links of interest
Key Results
The purpose is to expose NEAR in a positive view to the public. Then, the people will get into crypto as new users with us teaching them, and the NEAR HISPANO Guild will be onboarding these folks to the NEAR community and pointing all the content NEAR has to offer.
Results will be measured in new members of the community of NEAR HISPANO, and new users of the NEAR wallet, and new merchants that will receive NFTs of the Sacred Palm Tree as certificates of green environment friendly by accepting crypto payments using the NEAR wallet.
NEAR will be seen as a green brand which will draw attention of the public
This positive attention will translate into new end-users
Other non-profit organizations will learn about NEAR, and the Astro DAO efficiency and transparency.
Needs
We will need $5,000 USD per month that will be deposited into the Astro DAO of the "Palmeros de Chacao" according to their needs and events. We will be updating, showing the transparency of this fund management.
This project will beexecuted in Caracas firs, Venezuela. We hope later other members will run similar projects (hopefully improved with our experience) on different locations. We will be there to help them to do so.
We will also need participation of other NEAR guilds:
OWS: Helping with desginers for the NFTs. @Sofia_Alum
NEAR HISPANO: Helping with the onboarding process. @claudioac
Tools
Palmeros de Chacao will start using ASTRO DAO @simeon4real
From this starting point, we will build a NFT collection with Natural Reserves - Animals - Plants, and the buyers of these NFTs are financing the protection of forests, animals and plants.
We are still in the process of deciding which NFT market will be suitable.
---
Blessing the Ceroxylon: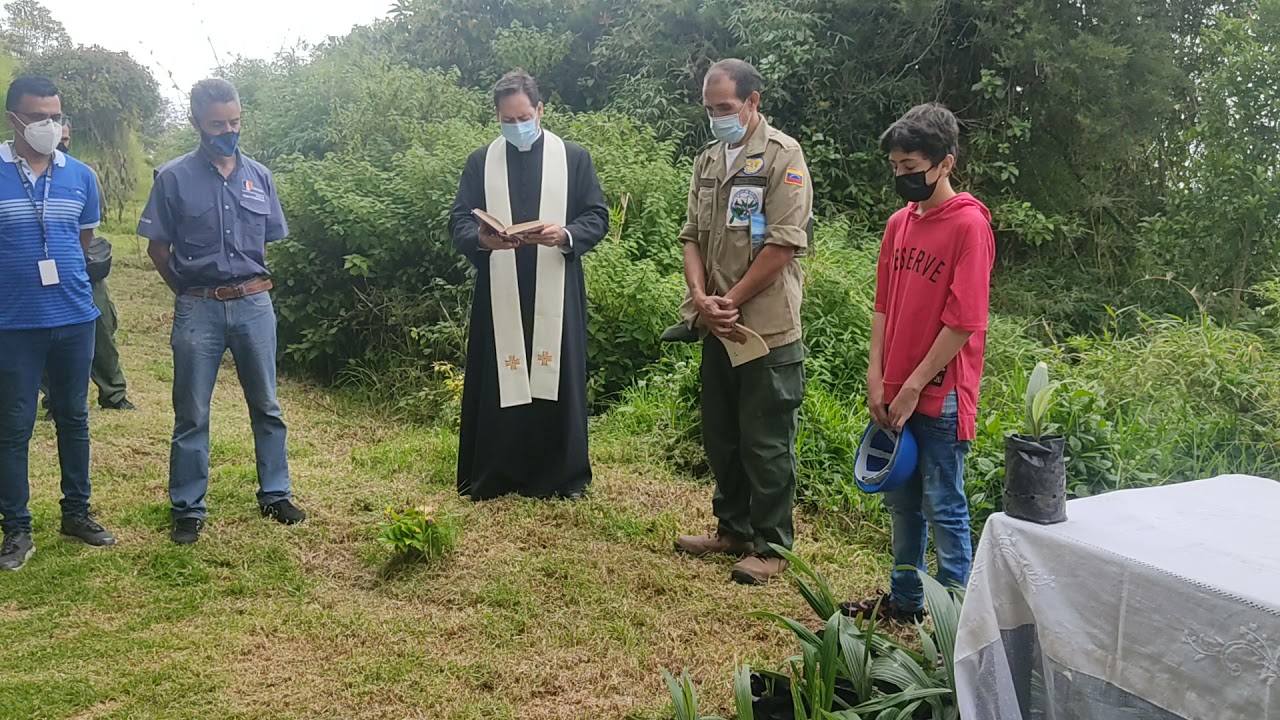 On this beautiful day in October, blessings were granted to the palms and to all those present to later plant them on our sacred mountain. Recorded by me.
I knew the Palmeros personally when I was doing community service as a requisite for college graduation. I helped them plant trees, donated them tools, and now we are close friends. From time to time, I go and help them with various tasks, most of them related to financial matters - they lack financial support, we are not in an easy country, and of course, they are against a lot of governmental actions that go against the law and the natural reserve they protect - so now I had this great idea, and I am quick to share it with the community. I hope you love it as well.