2. Diálogos Demonstra (Webinars)
Objective: implement a new communication network where it will be possible to disseminate audiovisual materials for research, actions, debates of ideas, collaborations and workshops related to the purpose of Demonstra. We will initially produce two public meetings in Webinar format between Gustavo Fernandes with another guest in which they will discuss themes related to art, disability and technology. Videos resulting from these Webinar meetings will later be edited and saved to the Demonstra channel. All meetings will be accessible in sign language and with descriptive captions for people with audio-visual disabilities.
The first four editions of Dialogues Demonstrates Dialogues: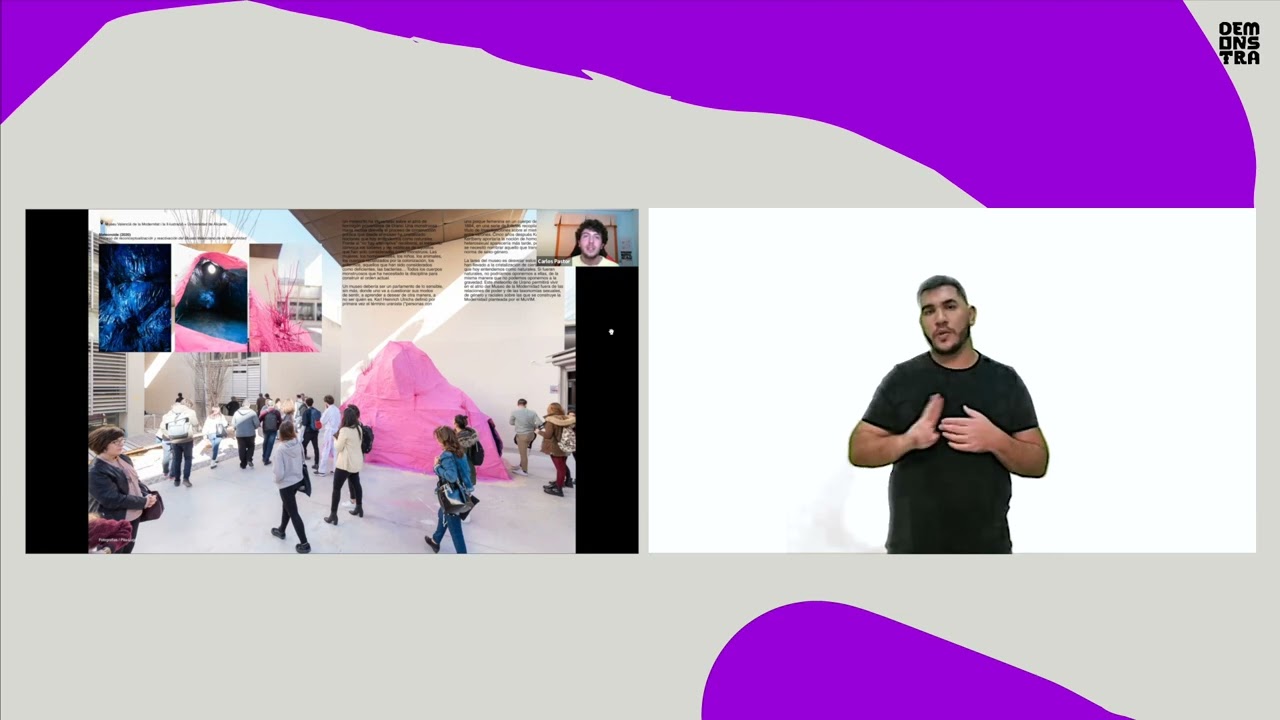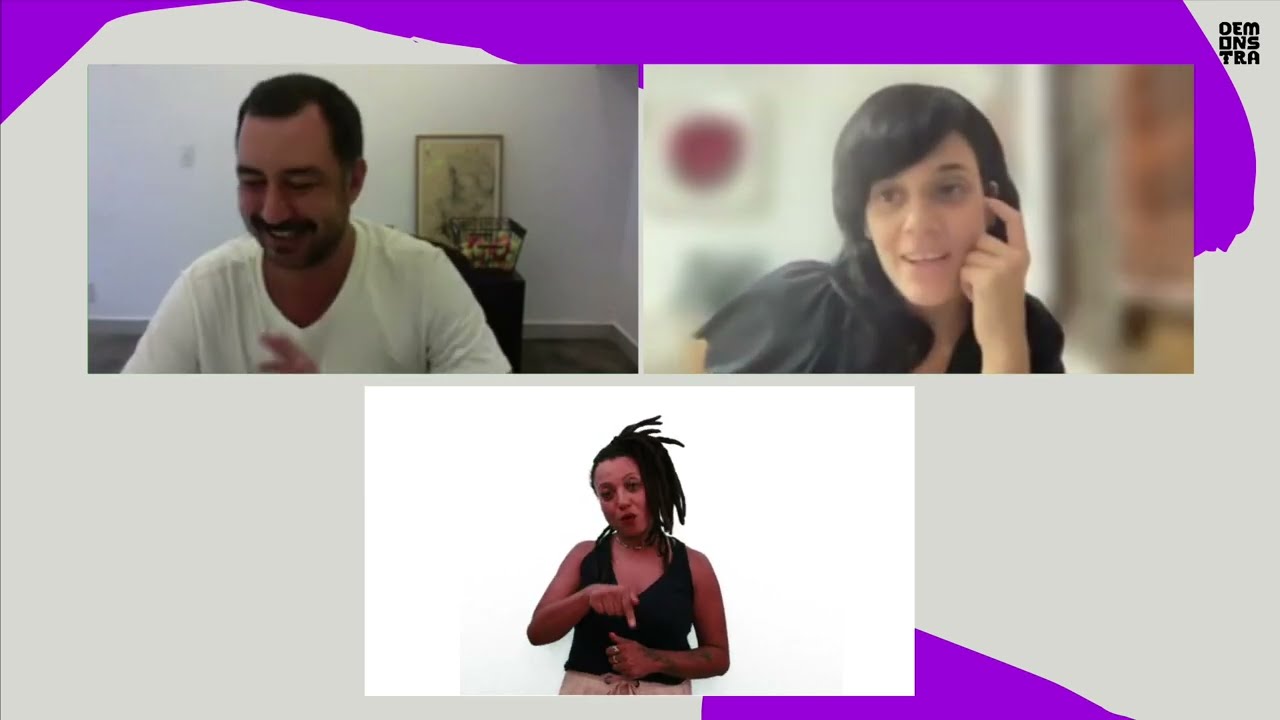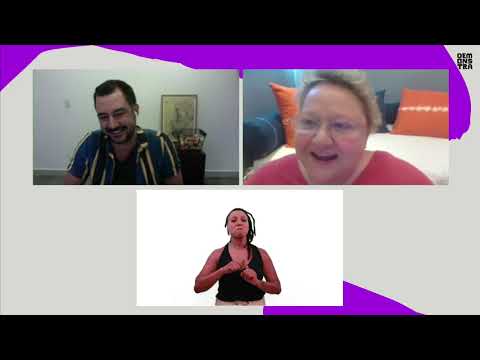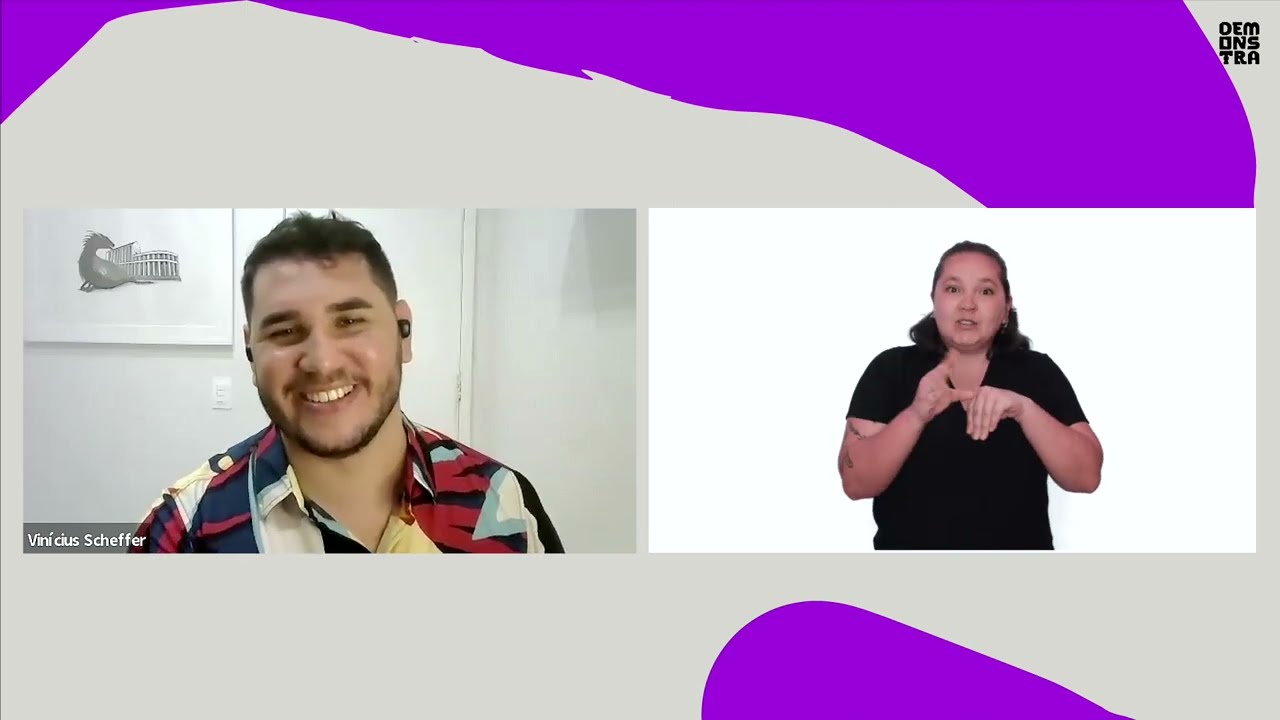 Diálogo Demonstra 06: Representation, visibility and professionals who stutter
Abstract: due to the lack of public policies aimed at people with disabilities in general and the lack of production and access to knowledge on this issue, many people with disabilities have systematically lower socioeconomic indices than those presented by people without disabilities, a fact that is confirmed by official documents such as the 2010 Census Booklet - People with Disabilities.
In the case of people who stutter, this situation can take on even more dramatic airs, since people with communication disabilities are not considered PWDs in Brazil (to date, PLS 311/2018, which would include mutes and stutterers in the Statute of Persons with Disabilities, has not been voted on). In many of the stuttering support groups I have attended, it has become blatant that most are poorly educated and are either out of a job or in low-wage operational positions.
Because of this, the idea is internalized that people who stutter (and people with disabilities in general) do not feel worthy of ascending socially and occupying privileged work spaces and knowledge production. That said, my proposal here is to invite professionals who stutter to a conversation circle where they can talk a little about their personal trajectory, the way stuttering crosses and affects their personal trajectories and, from this exchange, think about possibilities of inclusion and accessibility for people who stutter.
Host: Gustavo S. Fernandes [she/elu] is a stutterer, non-binary and anarchafeminist activist. member of the Instituto de Estudos Libertários (IEL) and the Brazilian Stuttering Association (ABRA Gagueira), she is also the creator of the Gagofonia project, which seeks to discuss stuttering from a critical and anti-colonial perspective. Master in Sociology and Anthropology at UFRJ and audiovisual editor at Escola de Cinema Darcy Ribeiro, her research focus lies in the intersection between radical studies of disability, anarchism, crippled-cuir theory and black-transvestite thinking.
For the next editions we are calling the artist and researcher Gustavo Fernandes to conduct the Demonstra Dialogues with her guests:
Guilherme Santana - is a stutterer and a professor at SEEDUC and a doctoral candidate in comparative history at the URFJ
Alexandra Martins Costa - is a stutterer and Video Editor at TVE Bahia
**Host - Gustavo Fernandes : 250 USD **
Fee for guest speakers: 300 USD (2 guests x 150 USD each)
Sign language translators and audio description for the 2 webinars: 250 USD
Direction and Production: 300 USD
Video edition: 300 USD
Recording: 150 USD
=======
Diálogo Demonstra 07: Accessibility for people who stutter
Abstract: the issue of accessibility begins to enter the conversation in the public debate and to be claimed by PCDs. Due to the current context of stuttering - which is seen as a disease and not as a disability -, little is said about accessibility for people who stutter, which does not mean that the lack of accessibility in spaces and in everyday life does not affect people who stutter. From machine-operated phone calls where we need to say what service we want to oral presentations with equal time allotted for stutterers and non-stutterers, we face many difficulties as we traverse the fabric of social life. The proposal here is to critically rethink these difficulties and think of concrete proposals for accessibility for people who stutter.
Speaker: Gustavo S. Fernandes 150USD
Direction and Production: 300 USD
Video edition: 300 USD
Recording: 150 USD
Sub-total: 2.450 USD