MOTHERING {PROPOSAL}
Goal:
Real change can only emerge from the exercise of imagining a different world. "Mothering" is an invitation to dream, negotiate and expand the horizons of the possible. We aim to address the institutional and systemic constraints of motherhood, so we can look at mothering in its full potential.
Mothering is an exhibition and ongoing project, draws on collectivity and creativity as paths towards improving life in our community and beyond, as such we have reached out to partners and collaborators from multiple fields, beyond the visual arts, to participate in the public programme (dance, behaviour science, lactation) and publication (literature).
This is a 55SP projetc in partnership with Kupfer Project and will take place
Mothering/ Mae
London: 02 of July - 06 of August 2022
On going
Video program
São Paulo: 06 of August - 10th of September 2022
This month we are working on artists lists and video and public program, for Sao Paulo exhibiton
Already onboard are
For this month we are bringing onboard
Monica Ventura
Mônica Ventura was born in 1985 in São Paulo, where she lives and works.
Visual artist and designer with a Bachelor's degree in Industrial Design from Fundação Armando Alvares Penteado (FAAP) - São Paulo, Ventura currently researches philosophies and constructive processes of pre-colonial architecture and crafts (African Continent - Amerindian Peoples - Vedic Philosophy). Her works talk about the feminine and raciality in narratives that seek to understand the psychosocial complexity of Afro-descendant women inserted in different contexts. A black woman, she sings her body memory rubbing it in her ancestry from stories of her life and research. In her works, there is a special interest in Afro-Amerindian cosmology and cosmogony, in addition to the use of her objects, symbols and rituals.
Among the national and international exhibitions in which she participated are the individual "O Sorriso de Acotirene", at the São Paulo Cultural Center (2018), and the collective "Estratégias do Feminino" at Farol Santander (Porto Alegre, 2019), "Feminist Stories" at Masp (São Paulo, 2019) and "Repartimiento - Luto Tropical" at Galeria Pasto (Buenos Aires, 2019)
In 2018 she was a resident at the Ocupação Coletivo Namíbìa, at the Espaço VOID in São Paulo and in 2016 at the Jardim Suspenso Artist Residence in Rio de Janeiro.
Fabia Schnoor + Bella
Fábia Schnoor was born in 1976 in Rio de Janeiro, where she lives and works. She has training in visual arts (EAV), art education and design (PUC-RJ). In 2009, she participated in the History and Tempo course: History and Culture of Memory with professor Margarida de Souza Neves at PUC-RJ. From 2009 to 2012, her work was accompanied by the artist Iole de Freitas in the Analysis and Insertion of Contemporary Production course, and, in 2012, she was selected for the Projeto Pesquisa program under the curatorship of Gloria Ferreira and Luiz Ernesto, both at the Escola de Artes Visuais do Parque Lage –EAV-RJ. In 2012, she is assistant to the artist Antony Gormley in the Amazonian Field work montage – CCBB-RJ. In 2013, she participated in the Residência Berlin Im Fokus program, in Berlin.
Fábia participated in her first solo exhibition in 2011 at Galeria Largo das Artes - RJ curated by Martha Pagy. She also took part in collective exhibitions in Brazil and abroad. Some of them include: Residual Benefits, PHICA, Phoenix Institute of Contemporary Art - Arizona, USA, 2012; Abre Alas, A Gentil Carioca, RJ, 2013, curated by João Modé, Alexandre Sá and Daniela Castro; Blue Electric Night, Mendes Wood - SP, 2013, curated by Ricardo Sardenberg; The Image in Question, EAV, 2013, curated by Glória Ferreira and Luiz Ernesto; Resonances, Künstlerhaus Bethanien, Berlin, 2013. In 2014 she is nominated for the Pipa Award and in 2015 was in solo exhibition LUGAR, at the Centro Cultural Candido Mendes - RJ, at the invitation of Paulo Sergio Duarte, who signs the curatorship and the critical text. In 2017 she participates in the collective A Escola em Transe curated by Lisette Lagnado and Ulisses Carrilho, EAV - RJ and in the same year she is selected for the Poetry Immersions project, curated by Marcelo Campos and Marisa Florido, resulting in the exhibition Floating in the Paço Imperial- RJ in 2018.
BELLA, 1988, rio de janeiro, brazil; mother and transdisciplinary and multimedia artist; I investigate energetic processes through matter, sound and light. I am interested in the intersections of knowledge. I develop research in sound art and technology, digital art, audiovisual and educational projects, performances and art installations. My practice also includes the construction and creation of electronic instruments and objects.
Took part in some artistic residencies such as: OneBeat Virtual [2021], Music Makers Hacklab [CTM Festival, 2019], Binaural/Nodar [Portugal], Sala Vazia [Fortaleza]. I was part of the lineup of festivals such as: Festival Novas Frequências [2016/2019], Ende Tymes [2017], Vinterjazz [2019, DK], Pequenas Sessões [2017/2019, bh], Festival Música Estranha [2016], Festival CHIII [2019], Acefalo [2017/2021, Chile] e do SESC Jazz [2019], with the legendary "Women's Improvising Group". I have had works exhibited in physical spaces such as: MAC-USP, Sala Maria Antônia, Projeto Dissonante (55SP), Sonic Matter Festival (Switzerland) and Coaty (project InstruMentes: music for (re)invention); and virtual ones such as: BICA Platform, TVLRec, among others; also via radio such as: Radio Quantica [PT], BBC (UK), Radio Tsonami (CL), WFMU (USA), CAMP-FR and Radio CASo (AR).
Priscila Roxo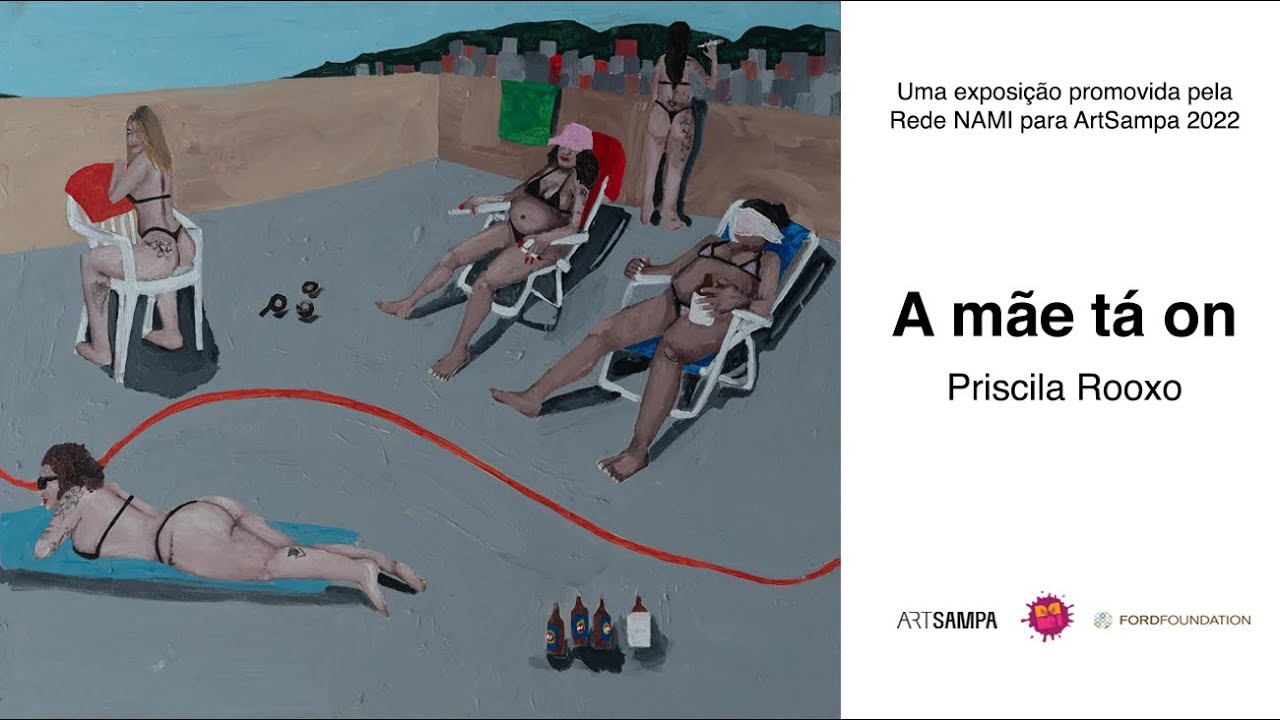 Addressing issues of gender, class and territory, including art, 'A Mãe Tá On' invites us to rethink the existence of the peripheral woman as a power and force that sustains the foundation of society. The exhibition is the result of the follow-up that curator Carollina Lauriano carried out through NAMI with the artist in the last year.
For next month, we are planning to bring onboard the others invited artists
Brisa Noronha
Carol Cordeiro
Thalita Hamaoui
Bruno Baptistelli
July
Mothering Public Program Sao Paulo Monica Ventura USD 350
Mothering Artist Support Fee - Priscila Roxo USD 100
Mothering Video Program Edition Fee - Bella + Fabia Schnoor USD 100
Edition and motion for the media kit = USD 120
Edit and motion for the video program USD 150
Subtotal USD 820