It smells like cinnamon, most of us need warm socks and another cycle will end soon - so it is time for a recap of the last 12 months!
And what a year it was! Most of us still feel the impact that the pandemic had on the world and we got to experience the first summer with music and events outside amongst more than 5 humans. We all can agree that the last two years left us with zero perception of time. It became all a big mental soup of mayonnaise.
So let us help you out with a little summary to understand what has happened since.
Because despite all this, we have been creating beautiful things and met wonderful humans.
To start it off on the right foot, we'd like to share some poetic words about how it actually all started in 2021.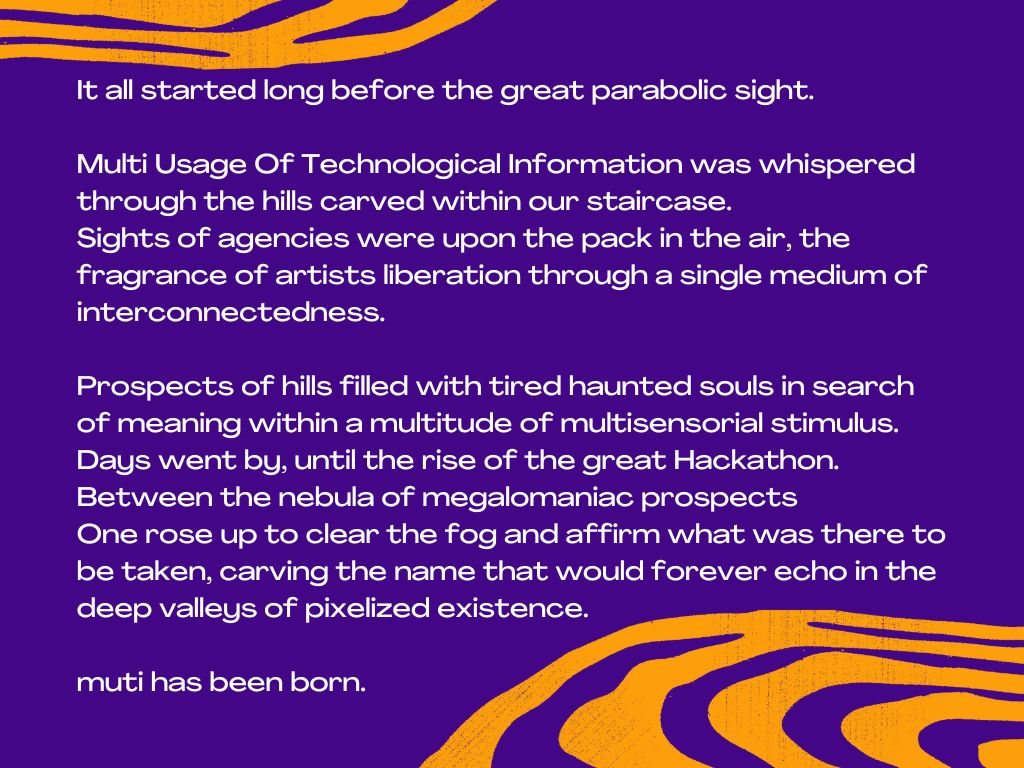 In the winter we started our activities in Parede, in collaboration with Ouriço, a cultural space run by lovely people. But mainly Josy, a furry being with big eyes and even bigger ears. We organized the Fool's Journey Residency and chose 5 artists to enter the world of web3, to spend a week together and co-create.
It also came to our minds that we could, should and want to portray musicians and emerging artists - so the muti sessions have been born. Kudos to Cudo DAO for the collaboration, realization and patience. We thank you with a lifelong portion of homemade pesto.
We held a DeFi workshop, dropped NFTs, and invited artists to perform in the Metaverse with us. And thanks to NEARhub, muti became the proud owner of a digital forest which lets us virtually talk to guests, exhibit art, and host concerts.
muti has also been invited to speak at an NFT exhibition in Lisbon and was interviewed about how we use digital technologies in the physical realm.
As soon as the spring was knocking on our doors, the convent in Montemor-o-Novo opened its portal for us, and smokedfalmon, Madama, and Puçanga put up a magical show under the stars.
Just in time for Easter, our muti bazaar snuck around the corner. So now physical artisan articles from our artists can be purchased with digital NFTs.
Right before the summer muti has become a legal cultural association. And going through this experience definitely confirmed once more the perks of web3. Anyways…
Lo-Fi Clouds has become a part of our family by running Beatmaker competitions which are now available in our Mintbase store.
As freshly baked associates we returned in July to our roots, the Kaya Shanti Beach Café in Sertã. Together with Black Cat Cinema and Lens DAO we joined forces with us to create an immersive experience with outdoor cinema, poetry, and concerts. Thanks to Maree Lawn, Camões Preto, smokedfalmon, and the golden boy Senhor Santos the river turtles and guests had a beautiful weekend.
And because we can do it all, at all times, everywhere, we started the Open Calls to onboard and support artists in Portugal, ran the first NFTropolis edition in collaboration with Cudo, Incubadora, Demonstra, Garden and 3xr, prepared an installation for the Waking Life festival with The Garden Collective and launched a website incl. a new visual identity.
In September we hosted our first physical NFT exhibition with NFTs to touch, joined forces with creative DAOs during the DAO HAUS event in Lisbon, and held a workshop for artists about NFTs. To finish, and because autumn is the time for conferences, we also took the opportunity to mingle between web3 natives at NEARcon, musicians at Mumi & the music business at WOMEX. We also kept on supporting artists through our stipends.
So now it is December, the time to smell all that cinnamon and to put those woolen socks on. While already planning everything, at all times, everywhere, for the next year.
And to understand what that sometimes looks like, we'd like to share some precious quotes from our internal group on Telegram. Authors will not be named - we value privacy.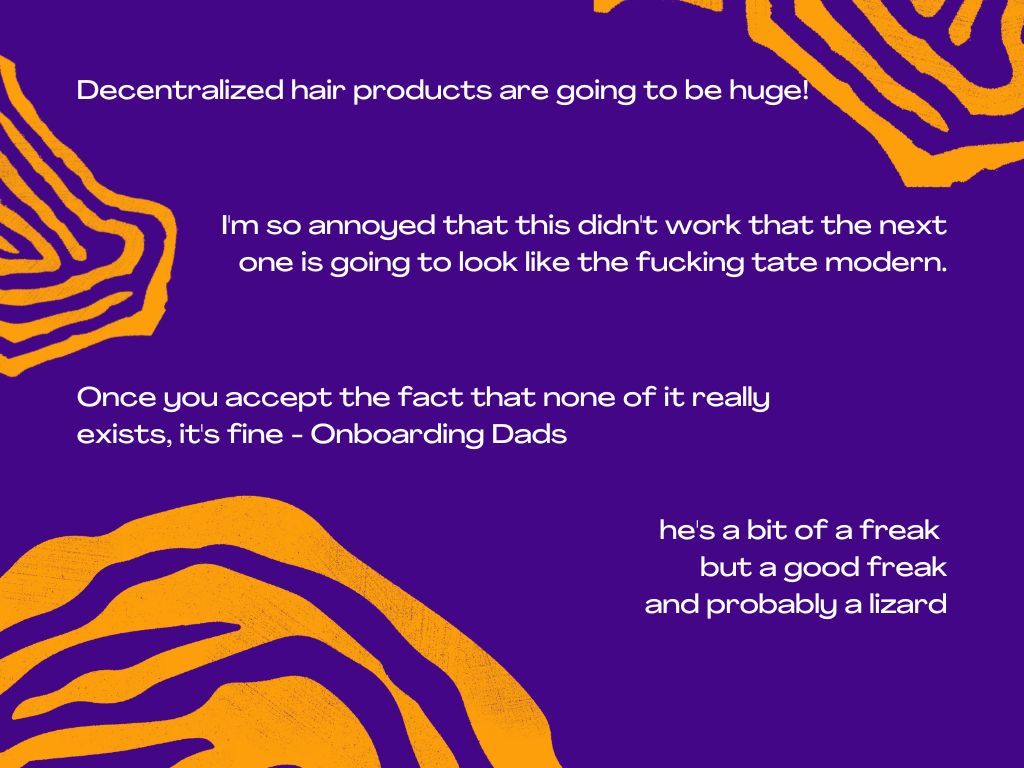 See you in 2023 & keep on creating!