I'm here to introduce you to NADA DAO, the web3 manifestation of NADA Studio Criativo, a hybrid of multimedia creative studio with indie micro publisher. NADA was created in 2007 and, (trying) to make a long story short, I divided these 15 years in four phases:
HISTORY
[2007 - 2011] Personal portfolio website
Back in 2006, I had just finished my filmworks studies at AIC (Academia Internacional de Cinema) and needed a website to host my audiovisual portfolio, as YouTube was still a baby trying to do its first steps. I didn't want a myname.com domain, so during a shower — where my best thoughts and insights use to happen —, thinking in how should I name the virtual place where I was going to put videos, texts, drawings and ALL that I was making at that time, the word NADA (nothing, in Portuguese) came to my mind, already along a slogan: É tudo que você precisa! (Is all you need!)
I started to upload my works there, some short stories, album reviews, poems and that's how it goes until the end of 2011, when I left the gray of the big city of São Paulo to raise my children in the green countryside of Botucatu (where I still live).
[2012 - 2019] New town, new all
After leave São Paulo, where I worked mostly for communication agencies and audiovisual companies doing TV commercials as scriptwriter, editor and post-production manager, I naturally became a kind of "one-man studio", still working mainly with audiovisual, from scripts to post, but also producing, directing, shooting and all needed from original idea to final delivery. But then I got some bigger clients and projects, with budgets that allowed me to bring more people to work together, which freed me up some time to dedicate to other things, like writing, illustration and visual arts — that's when NADA got the "Estúdio Criativo" (Creative Studio) addendum to its name.
Then it was like things started to happen faster: in 2015 I decided to self publish my first collection of poems, a handmade book limited to 50 copies. I learned how to layout on InDesign, brought a bulk ink printer, printed sheet by sheet and sewed by hand, one by one, each copy. I quickly sold them and I enjoyed the process of making books so much that the following year I produced two more handmade books, completing my poetic trilogy. And then people came to me to publish their poetry books, that's how I became an editor. Over the next years I edited a few more handcrafted books until 2019, when — with the release of Serpentário — I turned to small print runs to publish independent writers.
During and parallel on this, in 2018, I had not one, but two cultural projects approved and financed by Proac (governmental funding): Oficine-se, a series of audiovisual workshops plus a film club during six months; and Akangatu, four months of weekly creative writing and literature workshops and activities. Both projects were successfully executed, with the latter being two-time finalist (2018 and 2019) at Prêmio IPL – Retratos da Leitura, an important recognition from a respected institution (Instituto Pró-Livro).
After it's end, both project keep going without financial support: Oficine-se became a biweekly film club voluntarily produced by two members who emerged from the funded editions and did not want to see the project end, with NADA supporting with divulgation pieces and bureaucratic things, as the free exhibitions happened on a public building. And Akangatu became an independent soirée, produced by myself with a little help from my friends, without defined periodicity. Both projects keep going until the arrival of the pandemic, the first stopping after 45 public sessions and the second after seven open gatherings.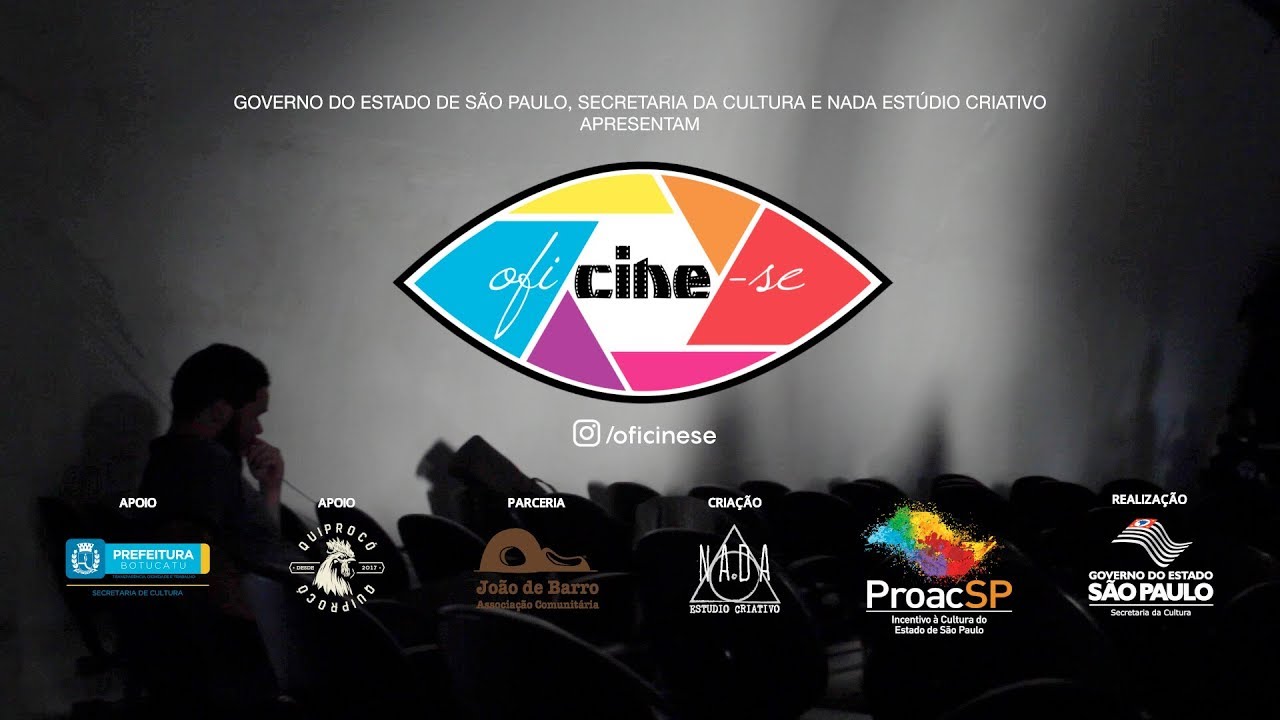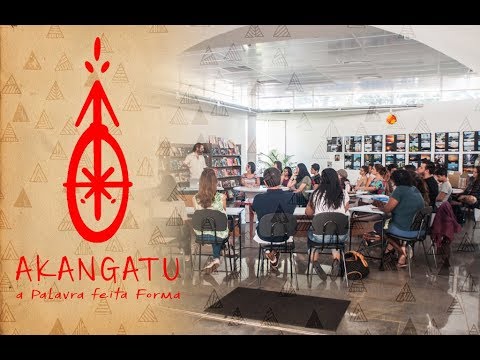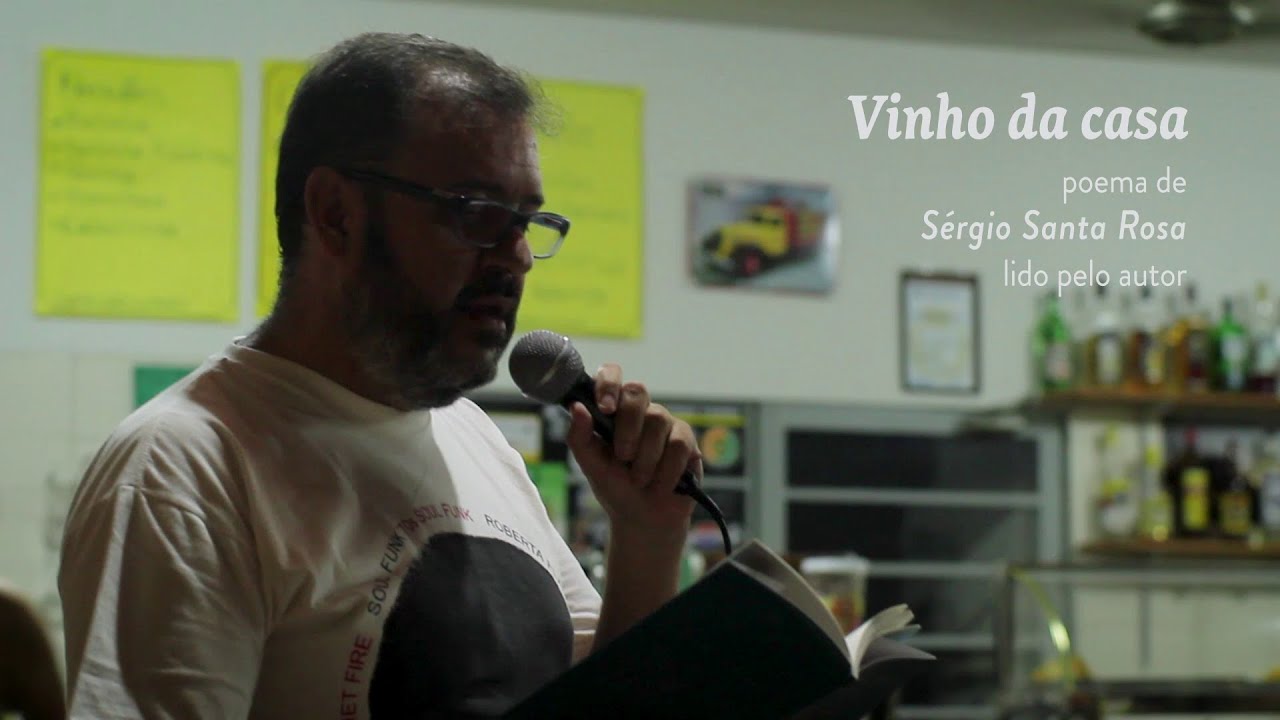 [2020 - 2021] Ten years in two
At the end of 2019, I realized that I was working more with editorial and cultural than audiovisual projects; as this was my personal plan, I decided to make small, almost symbolic, changes to make this clear: little logo and typography tweaks (for the first time since its creation back in 2007) and the change from "Estudio" to "Studio" on NADA's name.
This perception became stronger with the release of Ao Mar, my first novel as an editor and also the first novel, but ninth book, by the Luso-Brazilian author Ana Vieira Pereira. The book was set to be released in Brazil and Portugal in April, 2020, but the first event, on the latter, was canceled days before, even with Ana already there, because of the pandemic.
Then, as we all know, things got weird and a little suspended… but after those initial months of uncertainty, things started to be (in some way) back on (new) tracks. Like a lot of things, Sarau Akangatu became an online event, with seven more editions funded by two emergencial cultural grants.
In 2021, I got funding to publish my own first "official"(not handcrafted) book, a hardcover edition bringing together my three previous publications plus an unpublished small collection I wrote soon after they were released. Besides being self published, they also were self edited, so this time, being able to pay for it, I invited a friend to edit my book. Alez Zani (@aandz) is the founder and editor-in-chief from Fazia Poesia, a Brazilian contemporary poetry publication on Medium.
Working with Alex went so well that even before we were done with my book I invited him to co-edit with me another book I was working on. O Algoritmo do Cavalo – um ensaio sobre comunicação interespécies was funded via crowdfunding, reaching more than 250% of the needed value in less than 10 days! The book it's going to its 2nd reprint, with more than 800 books sold — our best-seller up-to-date! It's also our first translated one, published in English exclusively on digital format and is currently being translated to be published in French.
Things between Zani and I really went well, so I also invited him to be my partner at NADA Studio Criativo, because, even working with nice people (generally changing on a project basis), I was tired of taking all studio decisions alone. The publication of my book, Pra estancar essa sangria, the first with him as editor on printed media, came in June 2021 to celebrate this! Until the end of last year, we published another indie author and developed some minor projects, but our website still needs to be updated with them.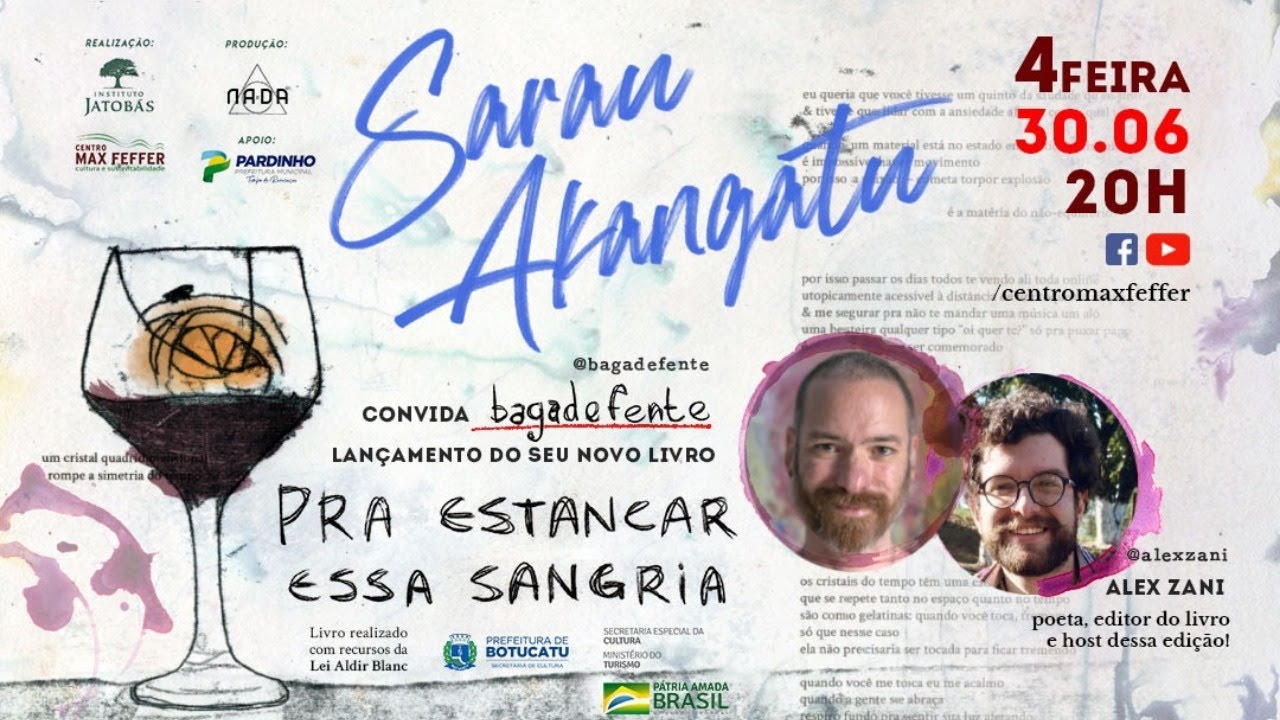 [2022 and beyond] The future is Near
Then things started to change… again!
On January, we started an important editorial project: a commemorative book to celebrate the 60 years of the Faculdade de Medicina de Botucatu (FMB/Unesp — The Medical School of São Paulo State University). I was already working on another project at its Memory Center, and then the directors asked me for a proposal to make something different than the earlier books, full of numbers and charts, looking more like an annual balance sheet and not pleasant to read; we proposed "60 years in 60 testimonials", a memoirist editorial approach, seeking to build an affective portrait of the institution, told from the narratives of those who lived and live the daily life of FMB. This is our biggest book project so far, both in duration (10 months) and number of copies (2.000).
On a personal level, I've been doing NFTs and studying blockchains, web3 and alike since March, 2021. Almost a year later, in January, 2022, chatting on a Brazilian crypto artist's Discord server, I heard about Near through @thephilosopher, who was onboarding artists to create the Gambiarra store on Mintbase. That's how and where I made my first steps on our ecosystem. All that follows that happened so fast that I'm still trying to figure out how so much happened in a few months…
In March I was invited to join a discussion about creative writing on the Near blockchain and, on the next day we created the Writer's Guild, in which I'm an active member, and also a counselor, since day one. It's where I learned how to request funds, write creative proposals, reports, create bounties, manage a DAO, think together to help with community questions, suggestions, problems and other things related to be part of a new, complex and work-in-progress create-as-you-go hope-to-be-decentralized universe.
It hasn't been easy, sometimes it's exhausting — especially being a Portuguese native speaker, but my English has never been so good as I'm using it everyday! But it's also fun, I learn something new all the time and I'm connecting with many many nice people, from different countries, cultures and this is something really important and rewarding to me.
With the Writer's Guild funding, I created my first project on Near, Poetry Transcreations, vol. I, a collection of poems written by me in Portuguese and then translated to English, hoping to create a culture of translation among guild members and enabling the words and ideas of the writers present here to reach other audiences. For this project I onboarded Zani and Ana C. Moura (@anacmoura), who was recently "officially" incorporated on the NADA crew after some successful projects together as proofreader, copydesk and translator. ATM, we three are developing two projects also funded by the Writer's Guild:
Can there be Poetry in Health? [working title], a Brazilian contemporary poetry book resulting from a Residency Final Work in the speciality of Family and Community Health on SUS (Brazilian public health care system) based on theories, practices and references experienced by the author Janaína Steiger (@janainasteiger) during the covid-19 pandemic period; and another collection of poems on Poetry transcreations, vol. II.
Besides all that, since May I've been doing The BlockChat — Near Friendly Talks, a live streamed online talk show created, produced and presented by myself, in which I have informal talks with artists from different areas and languages, part of the Near ecosystem. Biweekly, the first six episodes were funded by Gambiarra DAO, so I've been talking with active members from their community.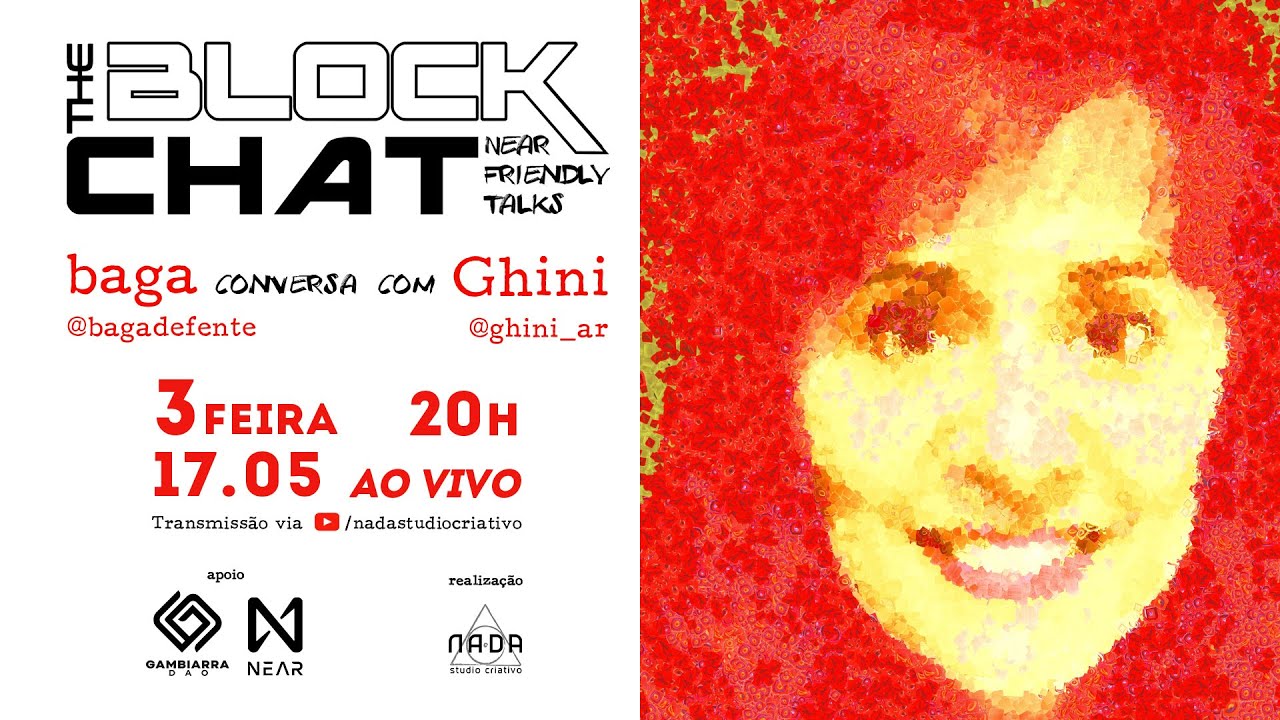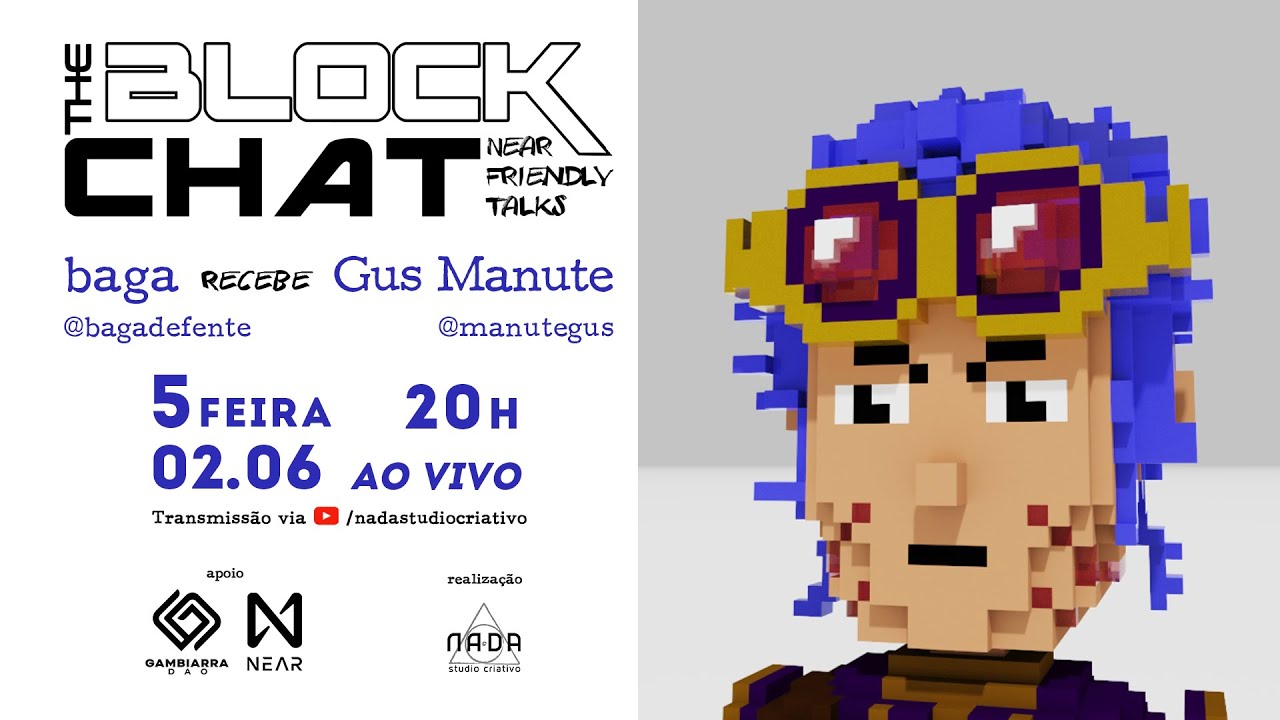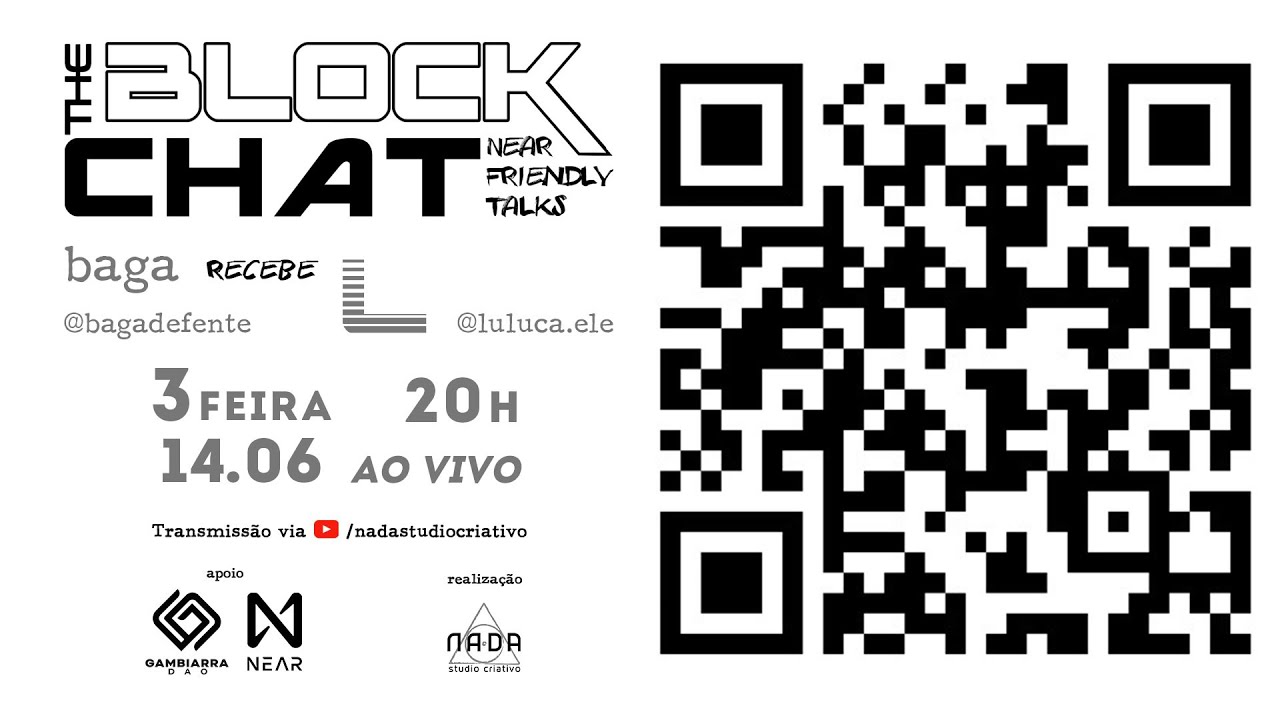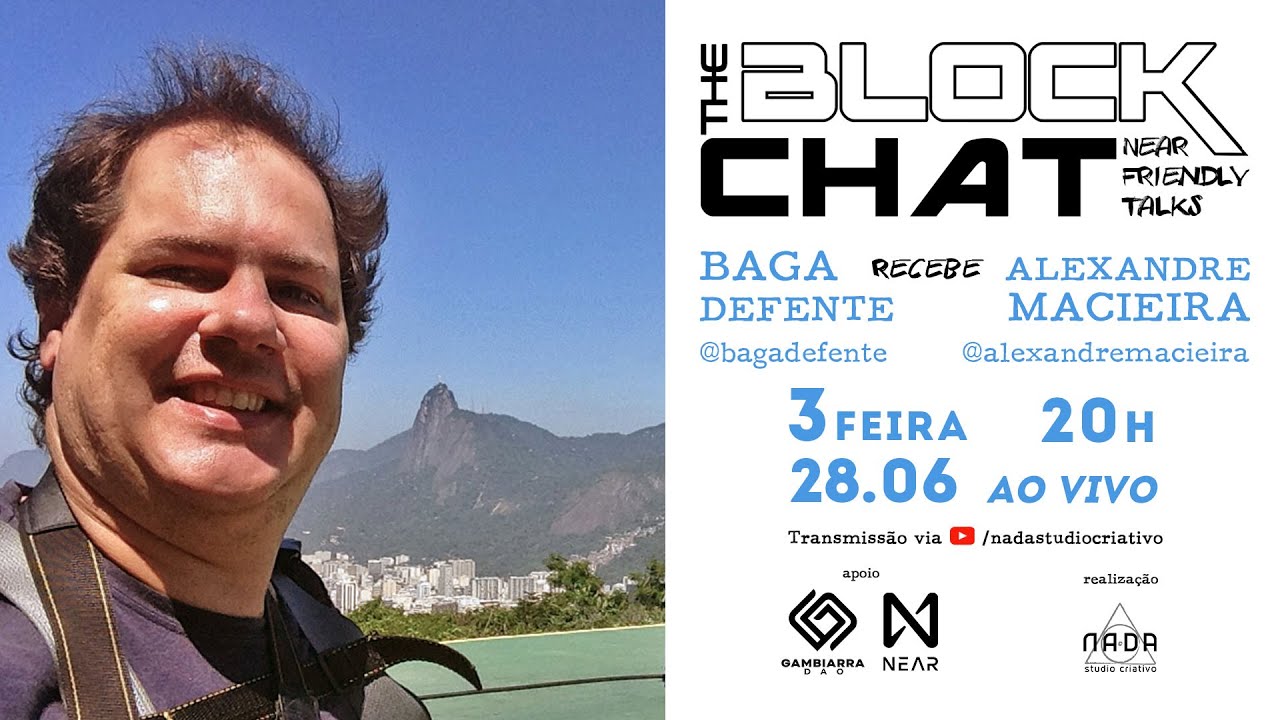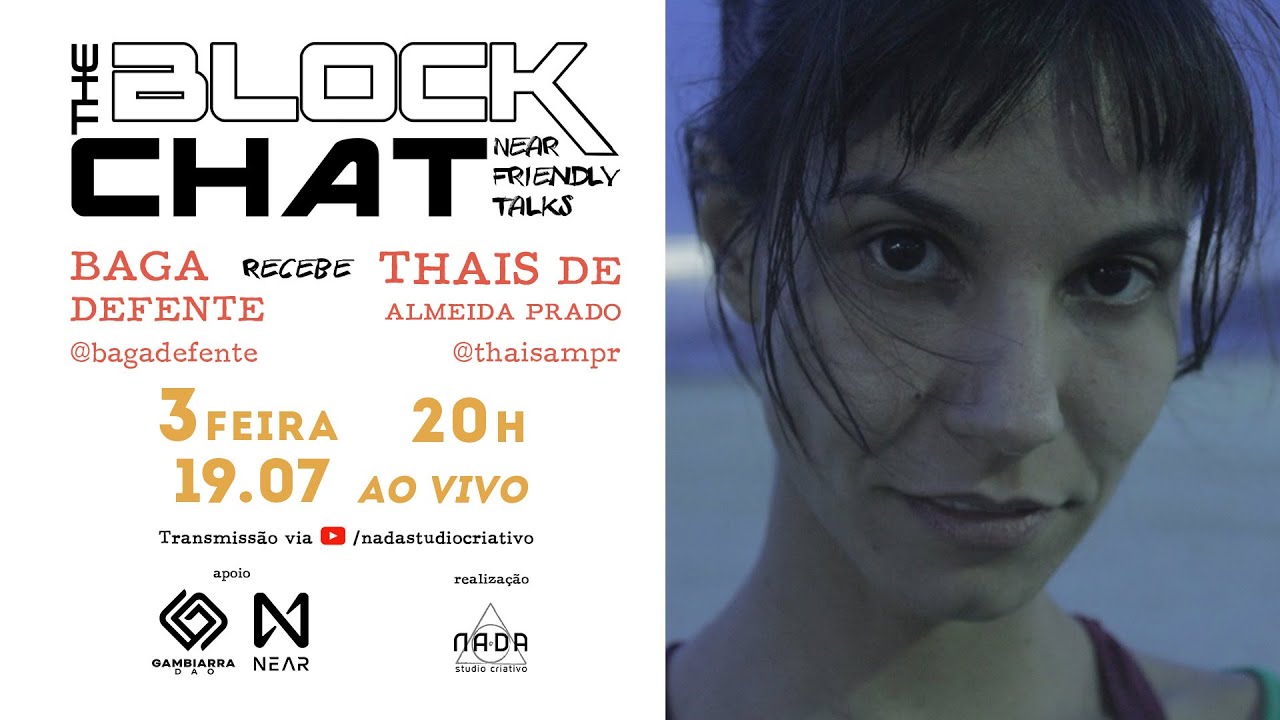 WHY BECOME A DAO?
The BlockChat is becoming more interesting than I initially thought, because during the talk we cover relevant topics, concepts and technologies we're discovering living on web3 context, sharing our experiences with a wider audience. This have an educational impact about all that, and also help us to presents the Near blockchain to people still outside of it
After a few people from different backgrounds who watched the show told me that, I started trying to figure out ways to have more "freedom" to invite people to talk to on The BlockChat, in a way that I don't need to restrict to have as a guest just someone part of the DAO that's is funding — and doing this was a personal policy, because I think it's a nice way to give visibility to them, offering this as a counterpart. But I also want to talk with developers, marketing, business and all kinds of people inside the Near ecosystem.
So I started to talk to people who are here longer, asking for suggestions on how to do that. Reach the Marketing DAO was the first suggestion, but after two people said something very similar, like "You and your studio are good at what you do, have a lot of ongoing projects and nice ideas for the next ones… why don't you become a DAO?", I guessed that's it!
That's why and what I'm doing here, using more than 10K characters so far just to present NADA to each and all of you. But, before I finish, I'll put more practical info below and update this post over the next weeks.
WHAT WE INTEND TO DO
TECH, ART & WORDS
We intend to use web3 emerging resources and technologies to optimize and expand our services and actions, focused mainly on book publishing, but working and open to different kinds of projects mixing art, technology and communication as we've been doing for almost a decade.
Being a writer, or a poet, in an underdeveloped country like Brazil it's not an easy task — never was, but especially over the last years, things got worse. Besides that, we have seen many small indie publishing houses being created during this time. Before the pandemic we were having a lot of events for independent publishers and authors, book sales were increasing and now we are trying to take back all that.
So we want to make it possible for independent authors to publish quality books without them having to invest money, and will receive part of the print run as royalties, being able to sell it directly to their public. We are also going to sell them on our online store and in-person events we attend, and this will contribute to the long term self-sustainability of our DAO.
So, having the support of the Near Foundation to give our first next steps in this direction would be an essential incentive and catalyst!
BUSINESS
A few weeks ago, Zani was talking about the editorial process of Can there be Poetry in Health? (the one from Janaina Steiger we're developing with the Writer's Guild support) with one of his doctors teachers at the Business Administration University and she talked about how we can be creating, or at least pioneering, a new business model for book publishing, because it's not the author, the publishers or a company funding the project, but a foundation using a cryptocurrency as a funding source; besides this, she showed us that the project includes, at least, three Sustainable Development Goals (SDGs), set up in 2015 by the United Nations General Assembly (UN-GA), what we are trending to apply in all our future works. Finally, this teacher suggested that they could write and publish together a case study on academic paper introducing and exploring this process.
This supposedly new business model can allow a better remuneration for the authors, new possibilities of income and divulgation using NFTs, counterparts like book donations to public libraries, schools and community driven cultural spaces among other ideas we are still lapidating before present here.
All these unexpected discoveries and possibilities strengthened our feelings and thoughts about becoming a DAO.
PROJECTS & PROPOSALS
We're going to use the DAO structure and funding to enable the execution of projects that otherwise would take longer or even not be able to happen. Some of these projects are/will be created and proposed by us, and others by people that reach us with ideas, like Janaina did. Then we will evaluate what makes sense to be done through our DAO, but the plan is incorporate the blockchain in our workflow, so even books not funded using the DAO budget will probably be turned into NFTs, just to name one easy example.
Even before joining web3, we were thinking of ways to improve our processes and project management, especially on how to share this with the authors while making the book and have a more transparent sales report — and the blockchain is the initial answer to these questions. So, in the medium term, we intend to bring developers together to create a platform/dapp that can help with those things.
We also intend to make book publication open calls both to people inside and still outside our ecosystem, including translation specific ones. Courses about independent publication for authors, creative writing workshops, literature related events like Sarau Akangatu and other actions, both virtual and in-person, are other plans that we are going to present soon on the first version of our roadmap. Below you can see a three-month draft version of it.
ROADMAP (Draft version)
Our DAO begins already connected with other DAOs, following up on projects started on them, like TheBlockChat (Gambiarra DAO) and Can there be Poetry in Health? (Writer's Guild).
In the first months we intend to work on a one year expanded road map, develop ongoing and pre-existing projects, and organize our social media e communication channels (instagram, twitter, website, online store, Telegram channel and Discord server) to reflect this new phase as a DAO.
July, 2020
DAO Creation (Introduction on Forum and profile on Astro)
Start of roadmapping
August, 2022
1st Funding Request for Creatives
The BlockChat (episodes 7 and 8)
Eyes in comma (book print and advertising strategies)
Twitter account creation
Website and online store new content creation
Roadmap v0.1
Social media restructuring
September, 2022
2nd Funding Request for Creatives
The BlockChat (maybe live at NEARCon? )
Eyes in comma (book launch)
Bounty: English subtitles for The BlockChat already streamed episodes
Website and online store updates
Press office and marketing services
Roadmap v0.5
October, 2022
3rd Funding Request for Creatives
The BlockChat (episodes 9 and 10)
Discord server creation
Press office and marketing services
Roadmap v1.0
The 1.0 version of our roadmap will include the last two months of this year and the first semester of 2023, but (at least at this moment) our main project for next year is a five volume poetry anthology from Fazia Poesia poets. In its six years, the portal published more than 5.000 poems of 500 Brazilian contemporary poets. This anthology will publish 100 of them, 20 per book, with all being onboarded in our ecosystem.
Finally, after six months working as a DAO and using blockchain more actively we probably will be able to start designing the aforementioned platform/dapp project.
NADA TEAM (council members)
BAGA DEFENTE (bagadefente.near)
Baga Defente (1984) is a poet, publisher & artist-etc. who works with several media, languages and supports, all of them connected through the Poetics of Chance — the conscious use of randomness and the unexpected on creative process. More than a theory or group of techniques, it's a statement, an approach on art-making.
His works explore the boundaries between memory and fiction, mixing reflections over human relationships, politics and the occulture to create experimental pieces. Since the beginning of 2021 he's also exploring artistic procedures using new technologies like blockchain, NFTs and metaverses.
(I also presented myself here).
ALEX ZANI (aandz.near)
Alex Zani (1996) is a poet, editor, editorial producer and student B.A. in Business Administration at Federal University of Uberlândia (UFU). In 2016, created Fazia Poesia, considered today the largest portal or Brazilian contemporary poetry on the Medium platform, where he works as editor-in-chief, also being responsible for managing and organizing workshops related to the aspects with which contemporary poetry can relate, which total more than 200 students, in addition to creating content for social media and podcast channels.
In 2021, he started to share the editorial services of NADA∴Studio Criativo. On NADA, he was the editorial producer of five books and others currently works in progress. For 2022 onwards, it integrates strategies and actions for acting on the web3 aimed publishing books on blockchain and cryptocurrencies. Also, he participated as a poet-exhibitor in the I International Journey of Visual Poetry and was part of the class of 2022 of the Expanded Poetry course at Casa das Rosas (São Paulo).
ANA C. MOURA (anacmoura.near)
Ana C. Moura (1998) has been a proofreader since 2018, as well as a translator and poet. Has a bacharel degree in Law from the Federal University of Uberlândia (UFU), since 2019 she has been part of the team of poets at Fazia Poesia, the largest contemporary poetry portal in Brazil on the Medium platform, and since 2020 she has been part of the editorial team of the same portal, in charge of Project Editor.
Currently, she is a student of the Training Program for Literary Translators, at Casa Guilherme de Almeida, São Paulo, and has several courses in her field. She was a reviewer and translator of official UN texts, by the Center for Studies in Law and Religion (CEDIRE/UFU), In addition, she has experience in the academic, digital and editorial areas, with works on the preparation of national and translated books, fiction and non-fiction. As a poet, she has printed materials published in poetry anthologies in Brazil, Portugal and the USA, as well as digital magazines and blogs.
Since 2022, she is responsible of proofreading and copy desk of all work texts that arrive at NADA, contributing to the actions and strategies of the new stage of work on NADA at web3.
LINKS
Website: http://nada.art.br
YouTube: NADA∴Creative Studio - YouTube
Instagram: https://instagram.com/nadastudiocriativo
Telegram group: Telegram: Contact @nadastudiocriativo