Our dao's mission is to build and record near's presence in the metaverse
Hellow Dacha, how are you?
Metaverse DAO its an archive of the history of NEAR in the metaverse. The DAO propose to register events, actions, news, important people, daos etc to stay documented for posterity.
In the other hand , Metaverse DAO seek to bring new users to the NEAR ecosystem, so that can generate more and more content to be register.
Dear Marketing council members,
I'm here as Council of Metaverse DAO.
Metaverse DAO wanted to continue it marketing works to spreed Near Protocol and register it activities. So, we decide to gather a new team to do it. For this, since I'm a designer, I become responsible to do this. I group a team of Brazilians professionals, that i Know their work and their ethos to do this job.
Metaverse DAO thinks that's a nice idea to have one inner member to have participation on the marketing team to help to inform, lead and coordinate their actions.
So, because of that (knowing the team, their work, and having someone to guide them) I think this marketing proposal (and members) is the best for our DAO and it's marketing.
I'm here to answer any other possible doubts.
xoxo
BeetleJuice
Good morning. Would be great to know how many active near community members your DAO has been onboarded and a road map by end of the year. Thank You

Can you please provide a detailed summary of:
All the NEAR Related projects that the Council and Team Members are currently working on?
All the proposals the current Council and Team Members have had approved/rejected from any other funding vertical (Creatives DAO, Education, NxM, etc).
Disclose any conflict of interest or relevant factors such as on-going allegations of misconduct against sitting Council Members and/or Team Members.
Hi, @satojandro. Good night.
Let me help here the new marketing team, and talk a little bit of what you have asked us. Our actual council members are @beetlejuice, @becopro and me. Some of us are in many projects, but concerning the Metaverse DAO, these are our funded projects on the Creatives:
https://gov.near.org/t/approved-metaverse-dao-funding-for-december-2021/10434
https://gov.near.org/t/approved-metaverse-dao-funding-for-january-2022/12005
https://gov.near.org/t/approved-metaverse-dao-funding-for-february-2022/14551
https://gov.near.org/t/approved-metaverse-dao-funding-proposal-for-march-2022/16307
This one is not evaluated up to now, but it is submitted together with our monthly report of the preview month:
https://gov.near.org/t/proposal-metaverse-dao-monthly-funding-request-april-2022/18252
These are our funded projects on Marketing DAO:
https://gov.near.org/t/aprovadde-metaverse-dao-marketing-02-2022/14549
https://gov.near.org/t/approved-and-report-metaverse-dao-marketing-03-2022/15688
As you can see in the last report, the marketing team does not want to keep their work with us. They decided to leave, we accepted, and Rafaela told me she could build a marketing team with a strategy that will bring evolution to metaverse dao. She and her marketing team are designers of her trust, and I trust her. If they are not talking much here, it is because they are new to the ecosystem, they were just onboarded by her.
About Creative projects, we are working in the projects of our funding proposal, with reduced funding capabilities (what we still have in our treasury) and reduced work, and we are also developing a pilot project for future near metaverses without commitment to funding, which is our 3d space on Mozilla Hubs, where we will have our building and also space for buildings and islands from other DAOs.
We are also working on trying to take Metaverse DAO to the real world of presential blockchain events, talking to the people that are building these events in Brazil, like Blockchain Rio.
Now, I see no conflict of interest: as there is a formal complaint against me in the forum, but it did not seem to have affected any of the people involved in the complaint, we were waiting for the moderators' word before any action, given this complaint was temporarily closed by NEAR itself (by @mecsbecs) while they and the creative moderators get to an evaluation and solution to the case. As I already asked the @creativesdao-council and a near staff, please, I ask you too, as a Marketing DAO Council, if you could tell me if it is better for the funding proposal of Metaverse DAO's Marketing that I step out of the council. Let me know, that I will do the best for the DAO. The mission of Metaverse DAO is too important to be harmed by individual conflicts.
@Dacha, good night.

Concerning your questions, our mission stays more in line with keeping the history of near on metaverse than onboarding people for now (onboarding is a long term intention). We also produce events to build near history on metaverse: parties, exhibitions; but our main projects for now are the meta-interviews, the historical meta-reporter (mintings in our historical store), our magazine, and our token (metacoin) and the associated decentralized project. As I said before, we are also developing our 3d virtual space on Mozilla Hubs. If you talk to NearHub, you will see that we were already in touch with them in order to build our Hub, and now we are building it ourselves. We did not build a formal roadmap, but our intention (that you can see in our Introduction) is to keep building the historical products we are building, and now to be able to connect the 3D spaces we are producing to near wallet and sell them as products (and maybe as service too), in order to get sustainability and in order to be a way to fund our historical activities on NEAR (of building ad keeping near history on metaverse) in the future. We also want to be in presencial events and onboard people to metaverse, but as a future plan. We can bring you a formal roadmap, but this will take some time, as we would have to build a project to explain that. But we can do that.
Kind regards to us all.
I am waiting to hear more from the @creativesdao-council before asking further questions and making a decision on this proposal.
Dear @marketingdao-council, The Creatives already decided. They asked me to step out of the council on Formal Complaint 00, and I already made the proposal here: Astro. I hope this can make the evaluation process better.
And I'm here to answer any new question that may still exist.
Feel free to ask anything <3
Please also include a list of all the projects the the Current Council and/or team members are involved with. @beetlejuice
Hello Satojandro, how are you?
I don't really get it your question, sorry. The projects at Metaverse DAO or personal projects at NEAR?
Maybe, if we get the objective of your concerns we can help you more to solve them

Sorry for the delay in the answer, but I had personal issues to solve.
He's asking if you can list all of the proposals you and your council members have worked on and any that have been submitted under each of the council members?
Hi Klint, GM.
I will set my works for april (just this month, right, not before?)
I will tag the others council members of Metaverse DAO so they can answer by themselves.
But I'm not understanding why this are being discuss here in Marketing proposal given that its Metaverse DAO related and not exactly about the marketing team and proposal. I'm a little bit confuse, can you help me understand?
I'm here and here in the council member (Spiritual DAO and Metaverse DAO)
I'm here in the diagramming proposal of Near Metaverse Magazine (1 did the 4 previously numbers)
And I'm here in the Philosophers DAO, but the DAO don't have activities yet. (this DAO will be dormant for now)
@klarakopi and @becopro can you give them your activies in NEAR?
I forgot to mention that I'm also building a 3D space for the Metaverse DAO with the main building being a version of the NEAR Metaverse Connection Center that's on cryptovoxels in the middle of the space to insert links to the metaverse spaces of other DAOs, have events, offer the space for other DAOs to host events, space for exhibitions, shows, classes and other cool features and ideas being developed to reward METACOIN holders.
It's a gift (for free, no funding) I'm creating it out of love because I believe in the whole project and I think it will be great for the whole NEAR ecossystem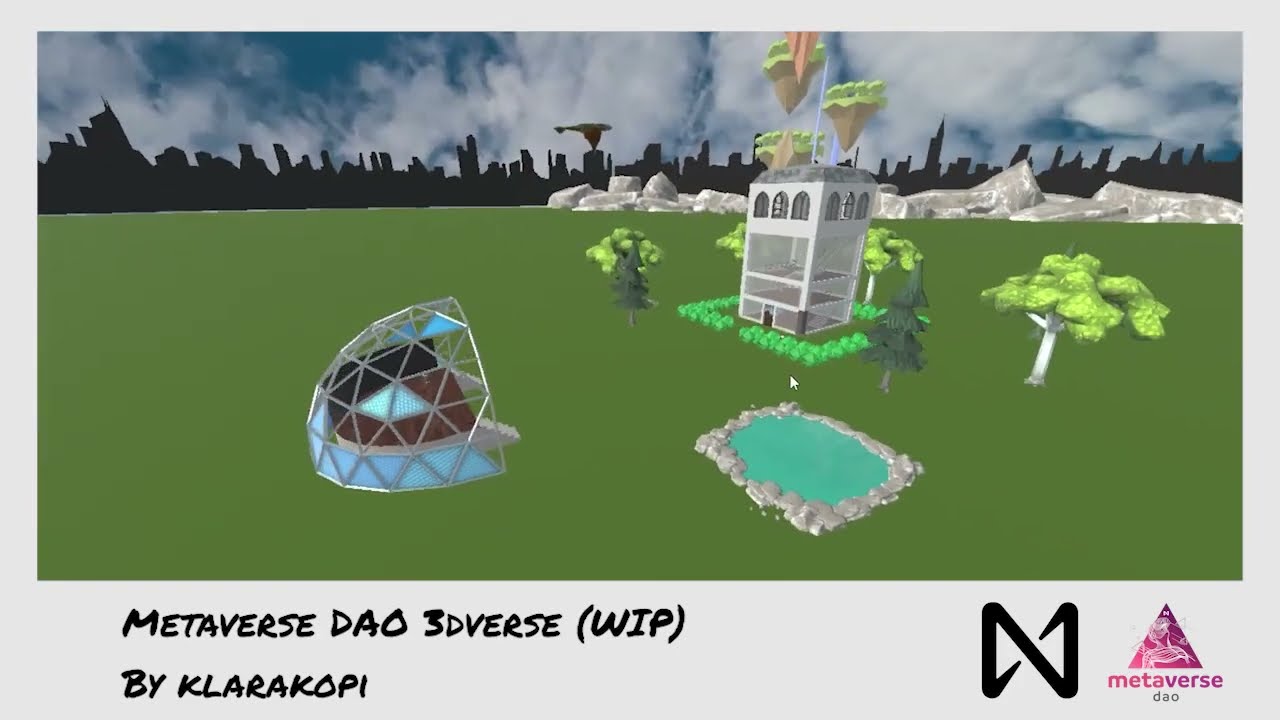 Cool , did you use Unity app for creating the 3D space ? Thanks
Klara is using Mozilla Hub
Thank you! Yes, I'm creating it using Mozilla hub for now, this is just a draft, I'll improve and change things to look better yet
@beetlejuice I'm hoping I can help clarify the request to share other projects and funding on the forum. It's really about transparency.
We are making this request a standard one for proposals. Before funding a project, we want to know what other funding a project has received from other DAOs and sources in the ecosystem and also what funding people on the project teams are receiving from other DAOs and sources.
Understanding this is important for us to responsibly distribute funds, help projects strengthen their marketing activities over time and help our council and the wider community have insight into the networked communities growing here.
What we are looking for is:
Links to other current funding requests for the Metaverse DAO
Recently funded proposals for the Metaverse DAO
Sharing the other community funding your team members are currently receiving from other projects